Written November 18, 2019
VOCABULARY LISTS

(Page 9)
Index of this Page
118. Voices
119. Jeans
120. Walking
121. Amusement Parks
***********************************************************************
Although individual hairs can be counted, the hair on a person's head is considered to be a mass of hair and is not countable. Therefore, we say, "He has a lot of hair", not "He has many hairs."

A hairdresser – for females; a hair salon

A barber – for males; a barber's shop

Bald

Curly hair

Straight hair

Long, straight hair

Short, curly hair

To trim; to get a trim

Split ends

Get (have) my hair dyed/ get (have) my hair tinted

Blonde; brunette, redhead
***********************************************************************
***********************************************************************
"Jeans", like "pants", "trousers" and "shorts" are not countable. We say, "a pair of jeans", "two pairs of jeans" or, "some jeans", ""my jeans" etc.

Denim – the material that jeans are made of, usually coloured blue.

A denim skirt; a denim dress; a denim jacket – these are not jeans but are made of the same material.

Skin-tight jeans – usually worn by women

Baggy jeans

"a pair of jeans with a rip in the leg." (considered to be "fashionable")

Casual wear - to "dress down"; to dress informally

Three or four decades ago, wearing jeans in some countries was considered to be "western" (and "cool" or "fashionable"), since jeans represented an aspect of the American lifestyle, and were quite expensive in some countries. This attitude still exists to some extent in many countries.
***********************************************************************
as a means of going 'from A to B' (= from one place to another)

as a form of exercise

as a means of relaxing and thinking

"getting out of the house" or "getting out of the office" for a break

to get some fresh air, to have a change of scene etc.

to look at the scenery etc

to 'stretch the legs' - https://dictionary.cambridge.org/dictionary/english/stretch-your-legs
***********************************************************************
For fun; for entertainment (amusement)

A ride/ rides; to ride

Scary rides; adrenalin; excitement; exciting; thrilling; heart-stopping; to scream; nausea, to vomit, to feel giddy; fear of heights

A Ferris wheel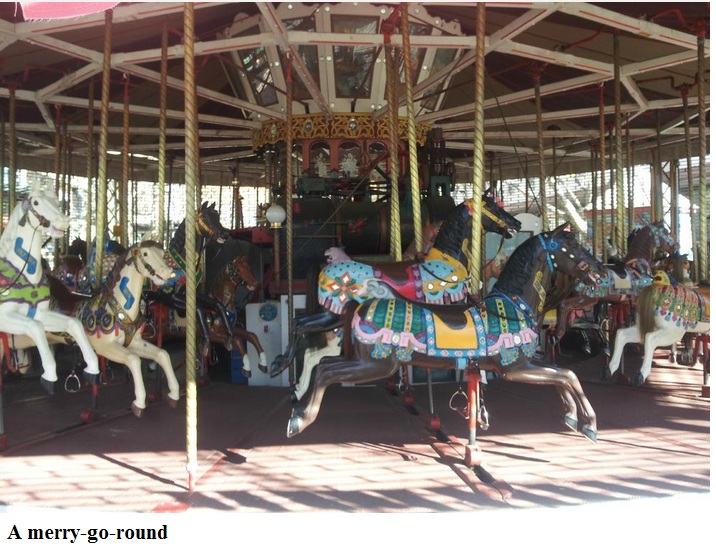 ***********************************************************************