Updated Apr. 27, 2020
VOCABULARY LISTS

(Page 9)
Index of this Page
118. Voices
119. Jeans
120. Walking
121. Amusement Parks
122. Boredom
123. Business
124. Leadership
125. Performances
***********************************************************************
Although individual hairs can be counted, the hair on a person's head is considered to be a mass of hair and is not countable. Therefore, we say, "He has a lot of hair", not "He has many hairs."

A hairdresser (for females); a hair salon

A barber (for males); a barber's shop

Bald

Curly hair

Straight hair

Long, straight hair

Short, curly hair

a crew-cut

a fringe

a ponytail

pigtails

To trim; to get a trim

Split ends

Get (have) my hair dyed/ get (have) my hair tinted

Blonde; brunette, redhead
***********************************************************************
***********************************************************************
"Jeans", like "pants", "trousers" and "shorts" are not countable. We say, "a pair of jeans", "two pairs of jeans" or, "some jeans", ""my jeans" etc.

Denim – the material that jeans are made of, usually coloured blue.

A denim skirt; a denim dress; a denim jacket – these are not jeans but are made of the same material.

Skin-tight jeans – usually worn by women

Baggy jeans

"a pair of jeans with a rip in the leg." (considered to be "fashionable")

Casual wear - to "dress down"; to dress informally

Three or four decades ago, wearing jeans in some countries was considered to be "western" (and "cool" or "fashionable"), since jeans represented an aspect of the American lifestyle, and were quite expensive in some countries. This attitude still exists to some extent in many countries.
***********************************************************************
as a means of going 'from A to B' (= from one place to another)

as a form of exercise

as a means of relaxing and thinking

"getting out of the house" or "getting out of the office" for a break

to get some fresh air, to have a change of scene etc.

to look at the scenery etc

to 'stretch the legs' - https://dictionary.cambridge.org/dictionary/english/stretch-your-legs
***********************************************************************
For fun; for entertainment (amusement)

A ride/ rides; to ride. Amusement parks have "rides", not "facilities" except for facilities such as a toilets, snack bars, parking areas etc.

Scary rides; adrenalin; excitement; exciting; thrilling; heart-stopping; to scream; nausea, to vomit, to feel giddy; fear of heights

A Ferris wheel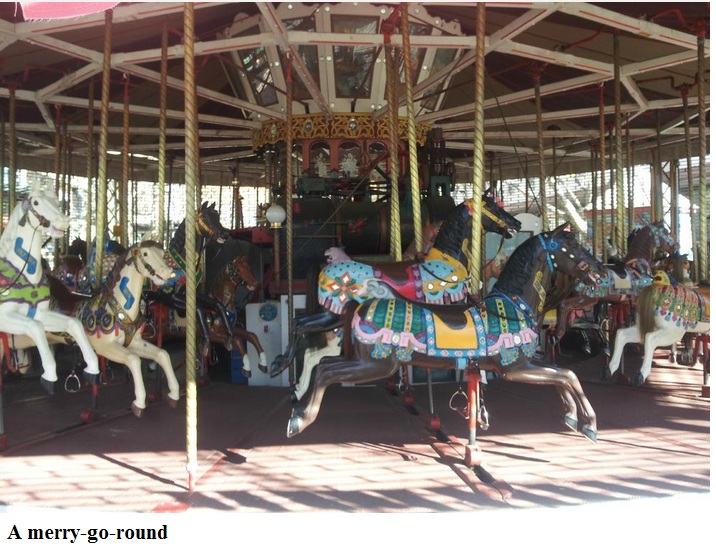 ***********************************************************************
to bore someone
be bored
boring ("I'm boring" = I bore other people. = I make other people feel bored. !!)
monotonous, monotony
repetitive, repetitious
tiresome, tedious
dull, dry, unimaginative (e.g., a speech, a lesson, a book, an essay, a lesson)
not new, lacking in novelty, unoriginal
unchallenging, to master a task (requires a person to pay attention to what they are doing), learning something new
unstimulating, mental stimulation
uninteresting, lacking in interest
uninterested, to lack interest in something, to have a lack of interest in something
to arouse a person's interest, to capture one's attention
to yawn
"ho mum" (an expression)
humdrum
to wait
nothing to do
Something to occupy one's mind
People who are bored are possibly lacking in curiosity.
Some people who constantly or frequently feel bored lack drive, or motivation.
Introverted (introspective) people are possibly less likely to become bored than extroverts because they are more used to generating their own thoughts.
"I'm too busy to be bored."
***********************************************************************
See also: Money, Leadership, Service, Success, Work
a business
a businessman, a businesswoman, a businessperson
to start a business; to own a business; to run a business; to manage a business; to engage in business
a company; a registered company
profits; to make a profit; to make a loss; to incur a loss; to break even; profitable, the profit margin
(annual) turnover
sales
a product; a service
a consultancy
a contractor
A customer buys a product or a service, especially the more everyday, less 'professional' services. A client pays for the more professional services such as the services of a lawyer or of a consultant.
a sole trader; a small business
a family-owned business
to be self-employed = "to be your own boss"
a private company; a state-owned company; a joint venture (with foreign partners)
demand/supply; to satisfy a demand; market conditions; the market; raw materials; the finished product
to invest; an investor;
the stock market = the stock exchange; stocks and shares; a shareholder; to issue shares; an IPO ( ), to pay a dividend, the Board of Directors
the Chief Executive Officer (CEO); mid-level managers; a supervisor;
company departments; The Sales Manager; the Advertising Manger; The Production Manager; The Personnel manager; The R & D (Research & Development) Manager, . . .
professional qualifications (e.g., a university degree in commerce or accountancy); an MBA; experience; to "know your product" (to know your industry)
on "the factory floor"
a worker; an employee, the staff (non-count when referring to one company) = the personnel
capital; starting capital (initial capital), working capital
bankruptcy, bankrupt; to go bankrupt = to declare bankruptcy, to fail, to "go broke"; to "survive" as a business; to "keep one's head above water" (= to survive, to not go broke);
an enterprise
an entrepreneur
a venture capitalist
manufacturing (heavy industry/light industry); agriculture (farming); construction; the service sector (of the economy) - hospitality (e.g., hotels, restaurants), transportation, tourism, entertainment, financial services (e.g., banking, insurance, stock broking), law, consultancies, education, healthcare, the real-estate industry, maintenance & repairs, wholesale trading, retail trading, high technology research & development . . .
import/export
an online business
Some factors for success - the business location, the degree of competition with other similar businesses, the demand for the company's product or service, the quality of the company's product or services, market conditions in general (the state of the economy, advertising, the liquidity of the company (= the amount of working capital), the quality/efficiency of the employees, the overheads [the costs of doing business, including the cost of repaying borrowed money, the costs of raw materials, salaries & wages, paying rent, paying taxes), the quality of management, the ability to secure contracts (e.g., government contacts) ], company credit-worthiness (ability to borrow money), planning/ flexibility = the ability to innovate, company morale (company spirit), the exchange rate. (international currency conversion), market access (esp. concerning international trade), tariffs,
Other possible causes of failure for some businesses esp. in the agricultural sector of the economy - unforseen natural disasters (floods, earthquakes, typhoons, drought, farm animal or human pandemics etc); wars, political/social instability (e.g., revolutions)
"government assistance" = favourable treatment & help or protection from governments (local, national etc.) when needed; government subsidies
a "sunrise industry" - an industry that produces new types of products or services, especially one that is expected to grow quickly - See https://dictionary.cambridge.org/dictionary/english/sunrise-industry (This is a relatively new expression in English. if you use it in the IELTS test, include an example.)
a "sunset industry" - an industry that has existed for a long time and that is less successful and making less profit than previously - See https://dictionary.cambridge.org/dictionary/english/sunset-industry (This is a relatively new expression in English. if you use it in the IELTS test, include an example.)
***********************************************************************
Not yet written
***********************************************************************
This topic is mainly about entertainment.

"Show business"

to perform, a performance, performances, a performer

The word, 'to perform' is also used to mean, "to carry out one's duties", "to do (carry out) a role". For example, "He performed his duties satisfactorily." See –
https://dictionary.cambridge.org/dictionary/english/perform
and
https://dictionary.cambridge.org/dictionary/english/performance
However the Part 2 & Part 3 questions in the IELTS test are referring to artistic performance, for entertainment.
The following words sometimes have the same meaning as, a 'performance' — an 'act'; a 'display', a 'show', a 'demonstration' when they involve one or more people doing something to entertain (or sometimes, to teach) others.

Performers show or demonstrate skills that average people don't have and/or entertain others (the audience).

Most, but not all performances are demonstrations of artistic skills such as playing a musical instrument, acting, singing and dancing. These performers can be called, "artists" even though they are not artists in the same sense as people who paint, draw, compose music, write poetry etc.

The people in the audience at one particular performance are called, "the audience" or possibly, "the members of the audience" (but it's unnecessary to use the word, 'members' here), not "the audiences".

Actors in movies, TV shows and stage plays, singers and musicians are performing when they have an audience. But, interestingly, when these people are rehearsing or practicing with no-one watching, they are not 'performing' (!) but simply 'practicing' or 'rehearsing'. In other words, a performer needs to have an audience – if there is no audience, there is no performance.
a movie (= a film)
a TV show (that has actors such as a drama, soap opera or comedy show)
[Note: Although movies and TV shows are, strictly speaking, 'performances' that involve several actors, English speakers don't usually describe one movie or one episode of a TV show as a, 'performance'. However, we do often use the word, 'performance' to describe the acting of an individual actor in a movie or TV show. For example, "XTZ played the leading role in that movie and he won an Academy Award for his excellent performance."]
a stage play( = "theatre")
[Note: Unlike movies and TV shows, sometimes the word, "performance" is used to describe a stage play, especially if the play is a famous one, such as the plays of Shakespeare. For example, "I saw a performance of Shakespeare's 'Macbeth' on Broadway when I visited New York."]
a concert, a pop concert, a live band or orchestral concert (= performance)
an opera = an operatic performance
a dance performance
a magic show
an acrobatic performance
a juggling act
a ventriloquist act
a mime (a miming) act / performance
a stand-up comedy show
a puppet show
a martial arts demonstration or performance
various traditional circus acts such as a trapeze act; a tightrope performing act; a comedy routine performed by clowns and even performing animals that are trained to do things that animals normally do not do (= performing "tricks") such as a monkey riding on the back of a horse, lions jumping through burning hoops or dogs walking on their back legs
Note that almost all the examples above are compound nouns composed of two words, with the first word stressed more than the second word when spoken. For example (click to hear), "a dance performance", "a concert performance", "a puppet show".
Chinese Opera (e.g., Beijing, Kunqu, Sichuan opera)
quyi 曲艺(https://www.topchinatravel.com/china-guide/quyi.htm)
There are no English names for some examples of quyi so just use the Chinese names and then immediately explain what happens in these performances.
From Wikipedia https://en.wikipedia.org/wiki/Quyi
"Quyi (Simplified: 曲艺; Traditional: 曲藝; pinyin: qǔyì) refers to such traditional art forms such as ballad singing (唱曲), Pingshu (评书), comic dialogues (小品), clapper talks (快板) and xiangsheng (相声) .[1] This group of art forms has gained in popularity since the New Culture Movement. With the exception of the Cultural Revolution period, a great number of stories written for these arts have been preserved.[2] Quyi is a Chinese performance art consisted of narrative storytelling using staged monologues and dialogues. It is mostly a spoken performance, and is generally not a full-fledged theatrical play. It should not be confused with Chinese opera."
Shadow Play
https://www.topchinatravel.com/china-guide/shadow-play.htm You could call this a "shadow puppet performance".
Crosstalk
相声
(comedy) performance https://en.wikipedia.org/wiki/Xiangsheng
Most (professional) sports competitions are both contests (to find a winner) and a performance because the competitions are carried out in front of spectators (e.g., in a stadium). The purpose of spectator sports is to entertain people. The spectators play the same role as the 'audience' does for artistic performances such as concerts of stage plays. These spectator sports are often broadcast on TV for television audiences. Examples are professional football and basketball games, professional tennis matches etc.
Quiz shows on TV are another example of both a competition and a performance in which the competitors demonstrate their skills (their knowledge) while at the same time entertaining the viewing audience.

A speech contest (e.g., at school); a spelling contest Both are performed in front of an audience.

Street performers (buskers) who play a musical instrument, perform a juggling act etc. usually seek donations of money from passers-by for their performances.

A venue = a place where a performance takes place. The word, 'venue' is also used to describe a place for a meeting etc.

Some words associated with the appreciation of art, including performance art – aesthetic value (similar to 'beauty'), entertainment value; creativity; uniqueness; cultural value . . .
Some demonstrations of how to do something (i.e., meant to teach people rather than entertain them) are a kind of performance if the demonstration involves a person acting or playing a role. For example, a demonstration of how to give first-aid, or how to save someone who is drowning. However the Part 2 & Part 3 questions in the IELTS test are referring to artistic performance, for entertainment.

Some examples of "shows" that are not really "performances" are: a fashion show, a beauty contest;
***********************************************************************